The Greatest Threat To Personal Freedom In America
Will Come In The Form Of TAXES.  Income Taxes.
Every second that congress is in session your money is under attack.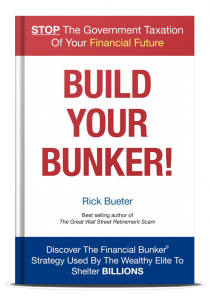 Obamacare, The Fed, Wall Street, and the banks all of which are politically influenced are squeezing the financial wealth of American savers.   Readers will discover the Triangle of Confiscation that Wall Street, Banks and the Government have participated in which is causing billions of dollars in the taxes of the mass affluent.
During the next 30 years 401ks and IRAs will be a government target just like gold when it was confiscated by the Government in 1933.   The 94% income tax bracket experienced in the post depression era will become a topic of conversation for exactly the same reasons it existed back then.  Even municipal bond holders will find extreme challenges.
Inside BUILD YOUR BUNKER readers will find a system of wealth that has been buried by financial propagandists that has profited the wealthy elite and commercial banks for a century.  It's the Financial Bunker system they have used to bury money from the Government and IRS and create secure wealth in the worst of economic times.
In times of economic uncertainty, diversification is the remedy.  BUILD YOUR BUNKER gives readers the strategies and examples of how to STOP Government Taxation Of Your Financial Future.  It illuminates an asset class understood by mainstream financial planning, and it puts immense economic freedom and financial empowerment in the hands of those who are preparing for their financial future in the "new" America.
If You Know What Is Going On,
You Know What To Do
Build Your Bunker!