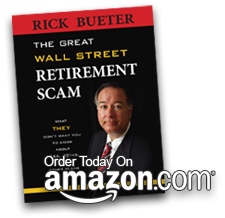 Conventional Wisdom About
Money Serves Wall Street,
Not Retirement Savers
During the last decade, conventional wisdom about money vaporized the personal wealth of millions of Americas.  The same event happened in the 60s and the 70s, and before that the stock market crash in 1929.
401ks, IRAs and other Wall Street retirement schemes don't work.  They never did.  It is a system that has serious flaws in it.  As strange and mysterious as it may seem, the strategies that have worked flawlessly during this period can be found by looking back decades, researching IRS tax codes, and studying what the wealthy one percent of people do to build and keep their wealth.
There is only ONE system that has protected and created retirement security for millions of Americans. The Government and Wall Street don't want Americans to know about it.
Read all about it in Rick Bueter's book, The Great Wall Street Retirement Scam – What THEY Don't Want You To Know About IRAs, 401k and other plans.

Wall Street Losses

An Uncertain Future 
In the last decade millions of American who trusted Wall Street and their government with IRAs and 401ks saw their retirement dreams vaporized by greed and incompetence.  Fortunately there is a solution to grow and protect retirement savings.  You can read all about it in The Great Wall Street Retirement Scam.
#1 Concern…Income

Do you have a never run out of income plan for retirement?
With historic low interest rates, Wall Street uncertainty and rising taxes, running out of income is the #1 concern of retirees.  The answer won't come from Wall Street.  It never did.  But that is what THEY don't want you to know.
Confiscation
The Government Is Coming.
The wheels are turning in government right now and that means trouble for Americans. Make your money safe.  Create a guaranteed lifetime income plan.  Stop the future taxation of your retirement. Leave your family an inheritance filled with tax-freedom instead of Taxmageddon.
What's your plan?